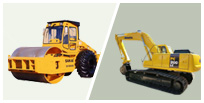 Heavy construction equipments
We import and sell Japanese branded excavators, vibrating rollers, motor graders, generator lights, forklift and massive portfolio of heavy construction equipments.


Industrial equipments
We are dealing with massive range of industrial equipments such as generators, compressors, electrical accessories, high pressure pumps, motors, water pumps, lethe machines, ladders, welding plants, etc. All products are original Japanese manufactured products.


Any kind of construction machinery spare parts
We understand that the spare parts play a vital role in construction industry supply chain. So we providing enormous range of spare parts like high pressure water tanks, Robin engine site covers, wood cutters, carburetors, Plugs, high pressure hose nipples, Cutting blades, Tool box, Nuts & bolts, Concrete cutters, Spray machine, etc.